Rent a Car at Ministro Pistarini
International Airport (EZE)
Ezeiza, Buenos Aires
http://www.aa2000.com.ar
CAR RENTAL DEALS AT EZEIZA INTERNATIONAL AIRPORT
Ministro Pistarini International Airport (Ezeiza) Car Rentals
The Ezeiza International Airport is located 24 miles (40 km) from the center of the city of Buenos Aires. Around 9 million travelers pass through it's terminals each year on their way all over the world. It's the most transited airport in The Republic of Argentina and one of the largest in South America.
The Buenos Aires International Airport, also known as Ministro Pistarini Airport, has 2 runways, 3 passenger terminals, and one cargo terminal. The terminals each offer an infrastructure of services including banks, cash machines, and money exchanges. You will also find a great variety of shops (clothing, jewelry, souvenirs, books, perfumes, and wines), pharmacies, restaurants, WIFI, and medical services. The terminals also have tourist information centers in the arrivals area.
Inside The Ezeiza International Airport there are also VIP sections for different airlines that have telephones, fax machines, internet, television, snack bars, meeting rooms, and even offer no-wait boarding with immigration control and x-rays exclusively for members.
The Ministro Pistarini International Airport has covered parking for 600 vehicles and uncovered parking lots in Terminal A for an additional 1,200 vehicles.
Car Rental at The Ezeiza Pistarini International Airport
Car rental offices for Avis, Hertz, and Alamo are located in Terminal A.
It's useful to know that the best prices for car rentals can be obtained by reserving your vehicle ahead of time through RentingCarz. This site allows you to select your preferred rental car amongst a great variety of compact cars, family cars, convertibles, SUVs, minivans, sports cars, and luxury cars. RentingCarz also has great offers on rental car packages that include GPS in your language, full gas tank, insurance, and many other services.
Once the reservation is placed all you have to do is present the voucher with confirmation number at the rental counter located in Terminal A together with your driver's license and a credit card in the name of the person who made the reservation.
How to drive your rental car from Ministro Pistarini International Airport to the city center
Leaving Ezeiza Airport by rental car is pretty simple since there is only one exit. To go to the center of the city of Buenos Aires you take the airport exit road and then Highway Ricchierey, then Highway 25 de Mayo and exit Avenida 9 de Julio. The trip will take about 50 minutes.
The city of Buenos Aires has a rectangular grid that makes it fairly easy to navigate. However it's still a good idea to contract your rental car with GPS in your language in order to drive safely and to take best advantage of your stay in this marvelous city.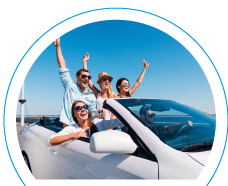 Near Cities
Near Attractions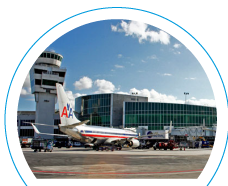 Other Airports in the Area